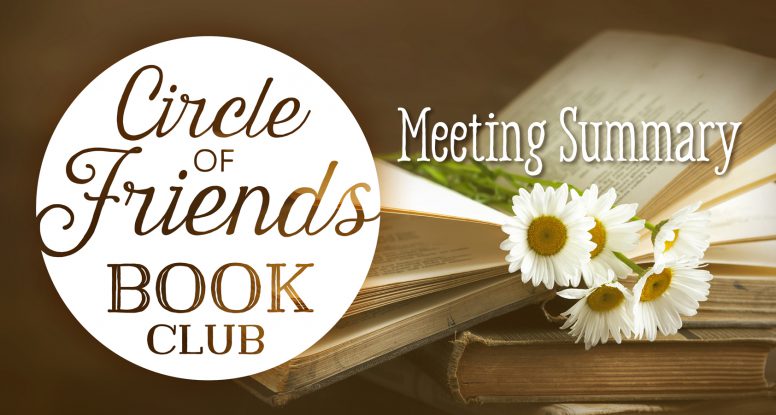 Circle of Friends Book Club meeting summary for May 2019
May 8, 2019
Last month's meeting was a lively discussion of several books brought by members and addressing the theme of "women who make/made a difference". Book choices included memoirs, autobiography and biography, fictional heroines, and collections discussing women by cultural area. All of the women portrayed displayed admirable qualities, and the diversity of choices made for many interesting questions and follow up.
Here are the titles and authors discussed:

Bright Star in a Dark Chamber by Robin Renwick – a biography of Helen Suzman, who fought for human rights in South Africa at the time of apartheid
Heartland by Sarah Smarsh – a memoir about the physical, spiritual, and emotional legacies of poverty as she experienced them
Pachinko by Min Jin Lee – a novel that tells the story of a Korean family in early 20th century Japan
Reason for Hope by Jane Goodall and Phillip Berman – a memoir of the famous primatologist which addresses her personal spiritual journey
Sensory Integration and the Child by A. Jean Ayers and Love, Jean by Ayers, Erwin, and Mailloux – two books addressing the theories of A. Jean Ayers, who originated sensory integration theory and therapy in pediatric occupational therapy
African Women by Mark Mathabane and African Women: A Modern History by Catherine Coquery-Vidrovitch and Beth Raps – books addressing the history of women in Africa and and the roles they play in the various cultures found there
Even a cursory look at the list above gives an idea of how wide-ranging a discussion covering these titles would have to be. The variety of roles women play and the qualities that lead them to be noteworthy were discussed, and also the way society supports or impedes women and their importance for humanity as a whole. Members had lots to share, and came away with many ideas for books to read and ideas to consider.