Circle of Friends Book Club
All are welcome! Next bookclub meeting: Wednesday, April 11, 2018 at 7 pm at the Bahá'í Center. This month's theme is Fantasy. We will be discussing The Saddlebag by Bahiyyih Nakhjavani.Come join us in the discussion!
The Circle of Friends Book Club is one of the many groups that are meeting at the Baha'i Center of Washtenaw County. Dedicated to exploring books of all sorts, the group meets on the second Wednesday of every month from 7-9 pm. Both Baha'is and non-Baha'is are welcome at bookclub. Please join us for lively conversation, new information about books, and exchange of ideas in a comfortable small group atmosphere. Come and enjoy light snacks and lots of laughter too!

A detailed outline of the results of our consultation is available from bookclub members or by emailing circleoffriendsbooks@gmail.com. Please come and join us at any bookclub meeting!
Visit the event calendar for more info on upcoming book club dates.
---
Circle of Friends Book Club Meeting Summaries
March 14, 2018
Bookclub members brought their personal choices in the area of fantasy to last month's meeting. The initial selection was West Indian Stories, edited by Andrew Salkey. The discussion centered on a Jamaican tale of the interaction between an American white woman and a Jamaican black man. Since the narration included the characters' thoughts and perceptions as well as the events portrayed, it led to a deeper discussion of prejudice, assumptions people make about each other, and how actions and reactions can lead people to question themselves in these areas, leading to more genuine understanding of themselves and others.
The second book presented was Sun Warrior by P.C. Cast. This book is the second of a series, "Tales of the New World". Its setting is a post-apocalyptic world, where humans and animals struggle with and against each other, and appear in forms both familiar and altered. Discussion of this book led to an attempt to sort the characteristics of fantasy in general. Members felt that fantasy usually included imaginary characters and events with symbol and metaphor, an underlying message or moral, generally happy endings, and illustrations of the increased strength of groups rather than individuals (although heroes and heroines play a large role too). Fantasy is read often as an escape from real world issues and conflicts.
The Sight by David Clement-Davies was presented next, and tells the story of a heroine who can see and experience events through the perspective of animals, such as bird and wolf. The book is also the story of her journey. The reader described a spiritual allegory in the story of the white wolf, and themes of dark vs. light, good vs. evil presented in the story. The function of fantasy as both escape and an uplifting story was discussed.
The last book presented was Meddling Kids by Edgar Cantero. The book is the story of a group who had solved a mystery as teenagers, and re-unite 13 years later. It has a supernatural theme, as each of the former group members feel "called" back to the haunted house that was the scene of their former triumph, and each one upends his or her life to come back. The book includes horror, humor, fantasy, and tributes to former books in all of those genres.
Overall, this bookclub meeting included a wide range of books under the umbrella of the "fantasy" theme, and deeper discussions of topics generated by the books and their readers. A generous thank you to all who came and shared!
February 14, 2018
February's meeting was a discussion of the book Tears We Cannot Stop: A Sermon to White America by Michael Eric Dyson. Although the group was small, the discussion was lively and engaging, with personal stories sprinkled throughout the conversation. Topics were wide-ranging, and covered many aspects of the subject matter, including history, racial identity, colonization, and how groups may be more effective in society than individuals at times. Members felt that the author's use of the jeremiad was an effective form to convey the message and intent in the thoughts and arguments he presented. The group saw that the impact on the reader is strong, and they shared quotations and read passages from the book aloud. Other highlighted themes included the author's discussion of the power and origin of words in a racial context, the meaning of race and whiteness, and white privilege and white innocence. There was also a discussion of how the author took the known information about grief and its stages and applied it to white racial grief. The group concluded with questions: Were people more active in the past? Are they more individualistic at the present time?
January 10, 2018
The theme for the January meeting was 'Multicultural'. Members brought four selections for discussion. The first of these was African America: Celebrating 400 Years of Achievement by Kenneth Estell. This book is a collection of over 500 biographical essays about African Americans and their accomplishments. The sheer number of entries showcases the wide range of contributions African Americans have made to our society. The book is organized by area of accomplishment, such as politics, performing arts, medicine, religion, literature, etc. Each entry includes biographical information and contributions made by the person, as well as vignettes giving important details to better understand their life and times. The book club member bringing this book to our attention chose to present on Dick Gregory, well-known comedian and activist. His biography included many other facets his life, such as his time as an entrepreneur and health educator/promoter.
The second selection was Homegoing by Yaa Gyasi. This book was selected as a community read for the Washtenaw Reads program, and the author will speak at Rackham auditorium on February 6. Homegoing is a novel about two African half-sisters in the eighteenth century and their descendants. One sister is kidnapped into slavery and sent to the United States, and one remains in Ghana. Alternating tales through the sisters and successive generations up to the present, the author paints a powerful picture of slavery and its costs.
The next book presented was Thinking Black: Some of the Nation's Best Black Columnists Speak Their Minds by Dewayne Wickham. This book contains a selection of essays by respected African American journalists about their individual perceptions and experiences dealing with black life and race in America. Issues such as identity, discrimination, and parenting are discussed with honesty and open candor. The different voices and issues presented provide an authentic mix of individuals grappling with race issues in America, and an idea of the wide variety in black life.
The last book discussed was a novel by Anne Hillerman: The Song of the Lion. Ms. Hillerman has written two previous novels, and all three of her books continue the series of Native American books begun by her father, Tony Hillerman. She writes about several characters her father originated, but has shifted the main focus to a female detective named Bernadette Manuelito, who is married to a detective featured prominently in her father's books. This book is notable not only for its mystery and characters, but also for its portrayal of Native American culture. Although neither Tony nor Anne Hillerman is of Native descent, they both are well-acquainted with the American Southwest and its blend of cultures, and have been lauded by the Navajo nation for their books.
December 13, 2017
cancelled due to snow
November 8, 2017
The theme for November's meeting was Spiritual Principles. Members brought three selections for discussion. The first of these was Two Wings of a Bird by the National Spiritual Assembly of the Baha'is of the United States. The discussion focused on the need for the equality of men and women, and the ways women still need to access full equality. Inequality in the economic sphere, discrimination in social roles and vulnerability demonstrated in the #MeToo campaign, the role of education, control of sexuality issues such as birth control and pregnancy, and the role of education were all parts of the conversation.
The second selection was The Moral Compass: Stories for a Life's Journey by William J. Bennett. The book contains a selection of stories from all over the world, organized by the stages of life. Each story has a moral at its beginning, and the story follows and illustrates the moral. Readers felt that this book is one to be read as selections, without necessarily needing to read the complete volume at once. Since the stories address needs and questions at various stages of life, reading could be long term and intermittent.
The last book discussed was The Poisonwood Bible by Barbara Kingsolver. This selection is a novel set in Africa beginning in the late 1950s, and focused mainly on the Congo during its transition from colonial rule to independence. It is told from the point of view of five different members of the same family who came to Africa as missionaries at that time. The book addresses spiritual values as each member of the family attempts to come to understand their own and others' identities and cultures, and what the meaning of help, friendship, understanding and learning across cultures represents.
October 11, 2017
The October meeting was a consultation/reflection on how the bookclub has been going and on the direction for the next six months. We decided to continue the use of themes in our book club selections, and planned the upcoming calendar. We agreed that our meeting with a guest author was a highlight of the past months, and are interested in planning another guest author presentation. We would love to have another guest author to discuss their book with the group, and welcome suggestions for this event. The bookclub also decided to pursue a service project within the community. Suggestions for the project that were discussed were all book-themed, and included gathering and supplying books to a school classroom, library, or daycare center; an activity encouraging literacy and/or children's reading; visiting libraries or preschools to read to children; and sponsoring a book drive. The project will be discussed further at upcoming meetings.
Sept 13, 2017
At the September meeting, individual members presented a variety of folk tales from cultures around the world. Some of these tales were short enough to be read aloud to the group, while others were summarized and then discussed. Members had been asked to read a folk tale with two questions in mind: what in the tale is representative of the individual culture it represents, and what aspect(s) represent universal humanity? The variety of cultures the folk tales represented, as well as their stories made for an interesting and lively discussion.
The folk tales discussed were: Dividing the Cheese (African), Tsuru no Ongaeshi (Japanese), What the Preacher's Talking About (African-American), Thor's Hammer (Scandinavian), The Fools of Chelm and the Stupid Carp (Jewish), and Erlkonig (German). Discussion initially focused on individual stories and their elements, as well as the way each illustrated universal human tendencies and life histories. There were also elements clearly illustrative of the individual cultures the folk tales represented, such as dialects, cultural rituals, and individual myths and legends. As the discussion evolved, participants became aware of commonalities in the various folk tales and their cultures as well. For example, humor was a common feature, as well as characters used to illustrate human qualities, both desirable and not. Thank you to all of the participants who made this one of our most informative and enjoyable meetings!
August 9th, 2017
August's meeting was a small group that discussed four books. The discussion was described by members as free-flowing, while touching on many subjects. The first book discussed was Tears We Cannot Stop: A Sermon to White America by Michael Eric Dyson. This book tackles the issue of race in both personal and cultural terms, with a call to change in the recognition of difficult truths, including the history of how black grievance has been minimized, completely ignored, or dismissed entirely. The second selection was a pamphlet written in 1965 called This is Apartheid by Leslie and Neville Rubin. This tract details the system of apartheid in South Africa, and gives 40 examples of restrictions imposed on Africans under the apartheid system. The author represented the Africans of the Cape Province in the South African Senate. The third selection was Food Mania: An Extraordinary Visual Record of the Art of Food by Nigel Garwood and Rainer Voigt. This book presents all sorts of visuals associated with food, from illustrations of food in the garden, through kitchen and preparation, to the enjoyment of food in the act of eating. Visuals of all sorts, including paintings and drawings, engravings, advertisements and labels, and even comics illustrate our fascination with food in all its phases. The last selection discussed was Beloved by Toni Morrison. This renowned book deals powerfully with the effects of slavery through the story of one woman, a former slave haunted by her experiences.
The assignment for next month's meeting is to pick and read a folk tale from a different culture. We will discuss at least the following two aspects of each tale:
1. Identify something in the story that is common to all humanity
2. What is something in the story that pertains specifically to the culture of its origin?
Please join us for what promises to be an interesting and informative discussion!
July 12, 2017
July's bookclub meeting was a special presentation by a guest speaker, Mr. Richard Thomas, discussing his book The Story of the Baha'i Black Men's Gathering. He presented a history of the Gathering, along with anecdotes and a video that broadened our understanding after reading the book. In addition, the meeting was enriched by the presence and informal presentation of others who attended the BMG at different times in its history. It was an evening both enjoyable and enlightening. Thank you to all of the participants, and especially our speaker! The presentation was itself videotaped so that others may enjoy it later.
June 14, 2017
The theme for the meeting was men/male authors. Discussion this month centered on a new (2017) book titled Everybody Lies, and a group of books by the Michigan author Steve Hamilton.
Everybody Lies by Seth Stephens-Davidowitz is subtitled: Big Data, New Data, and What the Internet Can Tell Us About Who We Really Are. The author is an economist who uses a broad definition of "data" to include text, pictures and search patterns on the Internet. He uses Internet searches for data mining, on the theory that these represent more valid measures of a person's preferences, as contrasted with such possible sources as Facebook (where people attempt to portray themselves most positively) and Netflix queues (where people may list choices based on appearances). His results are often surprising, and appear to show higher levels of negativity, with aggressive, hateful, and offensive material more common than generally thought.
Steve Hamilton is a Michigan native who often uses Michigan locales in his novels. He now resides in New York state, but local readers looking for a home state flavor will find a lot to enjoy in his books. His stand-alone novel The Lock Artist takes place mostly in the Milford area, and is the story of a young man who is drawn to locks as a child, becomes proficient at lock-picking, and is drawn into criminal pursuits as a teenager and beyond. Mr. Hamilton also writes a series of mystery novels with a repeating main character named Alex McKnight, who owns and operates a group of rental cottages, but as a former Detroit policeman becomes involved in solving crimes in the area around Sault Ste Marie. The first book in this series is called A Cold Day in Paradise. The author has also recently begun a new series with a character called Nick Mason, which takes place in and around Chicago. The first book in this series is titled The Second Life of Nick Mason.
May 10, 2017
The theme for this meeting was men/male authors. Several members had coincidentally chosen the same book, which was Born a Crime by Trevor Noah. An additional book was brought by another member: One People, One Planet (Adventures of a World Citizen).
Born a Crime is the autobiography of Trevor Noah, current host of The Daily Show on the Comedy Channel. It details his childhood in South Africa, during and after apartheid, and his transition to current celebrity in the United States. The title comes from his birth to a black mother and white father, considered a crime under the rules of apartheid at the time he was born. He writes from the perspective of a child with his childhood memories, and also seems to do a good job capturing his thoughts and feelings in response to experiences in his teenage years and as a young adult. The author's "voice" as written appears authentic in comparison to what a viewer of his television and YouTube appearances would see. He seems to be a frank observer who is unafraid to show his vulnerabilities, his puzzlement at what doesn't make sense to him, and/or the hypocrisies in all types of society. His approach contains the comedy we have become familiar with, alongside both compassion and a bit of the cynic as well. Members' response to the book was very positive.
One People, One Planet by Andre Brugiroux is the story of one man's journey around the world from June 1955 to October 1973, a journey through 135 countries and 340,000 kilometers. It is also the story of how the author came to the Baha'i Faith. The author first spent seven years in Europe, both traveling and working. He then did his national service in Congo for two years, then three years working and saving money in Canada. He then spent six years moving constantly, using only a dollar a day to stretch his savings. Brugiroux mostly traveled by hitchhiking, but also used all sorts of other modes of transportation, and had several personal safety close calls. He was also jailed seven times, and found himself in wars and other crises, as well as red-tape limiting his ability to move at times. Despite misadventures at times, the author maintained his positive outlook and continued his wide-ranging travels through Asia,
the length of the Americas, the Middle East, and Africa. Members asked many questions about the author and his journey.
Both books made for a lively and interesting discussion among members. Both books discussed portrayed men with unique attributes, but with universal struggles finding their way in challenging environments.
April 12, 2017
The theme for this meeting was women. Members had a choice of two books to read: Waterlily by Ella DeLoria, or My Beloved World by Sonia Sotomayor. Since at least two members had read each book, both were discussed.
My Beloved World is the autobiography of Supreme Court Justice Sonia Sotomayor. It tells the story of her life from early childhood to the beginning of her service on the Supreme Court. Ms. Sotomayor describes in detail her early family life, her Puerto Rican culture, and her development as a seeker of knowledge and wisdom. She also talks about her education, marriage, career decisions and growth. Ms. Sotomayor goes beyond mere reporting to let the reader see her feelings, reactions, and both successes and failures as her life unfolds. She also gives enough depth to the people in her life that the reader feels acquainted with her family, friends and co-workers as well as with the writer herself. Her determination in the face of difficulty, her ability to combine logic and passion about issues in American life, and her reasoned judgment have obviously served her well, but she also displays humility and empathy for others. Bookclub members saw My Beloved World as an inspiring read.
Waterlily by Ella Cara DeLoria was also inspiring to those who read it. Although it is a novel, the basis for Waterlily is a series of interviews conducted by the author from 1927-37 (the book was completed in 1947) with elders of the American Indian tribes. The book uses the information gathered to portray Plains Indian life in the American west through the story of three generations of women. The author's goal was to bridge the lack of understanding between whites and American Indians, and per discussion she appears to have met this goal. In addition, the club members who read the book felt the story was engrossing, the characters well-delineated, and they found much to respect in the way of life portrayed. They appreciated the female perspective of the book, and felt that the cultural context and emotional connections made by the story lent themselves to increased understanding of such cultural ideas as the philosophy of child-rearing and other issues of daily life.
March 8, 2017
The theme for the March meeting was books about/by women. Three books were presented by club members and discussed. The first was Hidden Figures by Margot Lee Shetterly. This book tells the true story of a group of talented African-American women who worked at NASA as "human computers" when the Space Race was young. The book is the basis for the popular movie, and one of the heroines profiled, Katherine Johnson, was feted at this year's Academy Awards. Discussion of this book centered on Katherine Johnson, and her ability to perform high-demand mathematical work in her indispensable role in spite of facing Jim Crow laws and restrictions placed on female talent.
The second selection was I Am Malala by Malala Yousafzai, with Christina Lamb. Despite her youth, Malala Yousafzai became a heroine and role model to many after resisting the Taliban by being openly committed to attending school and encouraging other girls to do so. After being shot in the head while on her school bus by a Talib, she made a long and difficult recovery including leaving her homeland for medical assistance and safety in England. She recounts her story with courage and honesty, and a degree of self-awareness that belies her age. She has also continued to make her strong support for education for girls and young women known at events around the world. In her autobiography, Malala comes across as both a heroine and a typical young girl, which is quite an accomplishment.
Our last selection was Compassionate Woman by John Kolstoe. This book is the biography of Patricia Locke, a person familiar to many Baha'is. In recounting the book and its information, the member presenting it was able to give other members background on this women who many know "of" but perhaps not a lot "about". Patricia Locke was given the Native name "Compassionate Woman" and the group learned how her life of service truly exemplified that name. Her particular concerns included education (particularly on the reservations), justice, assistance across all cultures, and the preservation of Native languages. Patricia Locke was also a writer, university instructor, and community activist. She was the first American Indian who was a senior officer on the National Spiritual Assembly of the Baha'is of the United States.
All of these women were pioneers in their fields of endeavor, and each an outstanding example of female strength, perseverance in the face of difficulty, and willingness to stand up for justice in the world.
February 8, 2017
Last month's meeting on February 8, 2017, was devoted to a reflection and consultation about our book club and a discussion of ideas and suggestions for how we should proceed in the coming months. We shared thoughts about what is currently working well, and what new ideas we can implement in the coming months. Suggestions were made about how best to structure our meetings and how we can invite new friends (both Baha'i and non-Baha'i) into our reading circle. Most members felt the quality of our discussions has continued to improve, and to encourage more depth, we decided to begin using themes so that the discussion can be more centered. For the next six months, we will alternate between reading books together and reading books of personal choice, both related to the chosen theme. The group plans to have another consultation in six months or so.
January 11, 2017
Last month's meeting consisted of discussions of several books brought by individual members. Book selections were widely varied by topic and type. The first selection was The Third Reconstruction by Reverend Dr. William Barber II, Protestant minister and political leader in North Carolina. The author may be familiar due to his leadership in the Moral Mondays movement and his oratory at the Democratic National Convention last summer. Dr Barber's book details the emergence of what he labels the "Third Reconstruction" (following the Civil War Reconstruction in the late 1800s and the Civil Rights movement of the 1950s-60s). The book is both a description of the new movement and a handbook for those seeking to find direction in implementing a program with moral and ethical methods to bring people together for change. The bookclub discussed the 14 point plan from the book to aid in the infusion of morality into groups attempting to better their communities, with particular emphasis on racial healing and voting rights.
The next book was Oliver Sacks' The Man Who Mistook his Wife for a Hat. This book presents individual case studies of a variety of neurological conditions that Dr. Sacks consulted on as part of his practice. Conditions involved both disease and injury, and their resulting difficulties. Dr. Sacks' strong empathy for his patients and the human condition makes this book special in both the interest it arouses and in our own understanding of ourselves and how we function.
Animal Dreams by Barbara Kingsolver was the next selection. This novel tells the story of a young women's return to her hometown in Arizona after an extended absence. The writer explores the main character's history, as well as her relationships with members of her family and others she needs to reacquaint herself with on her return. It is written with humor and compassion that demonstrate the writer's abilities with both plot and characterization, as well as many deft turns of phrase that leave the reader smiling in admiration.
The last selection was a book entitled $2.00 a Day: Living on Almost Nothing in America by Kathryn J. Edin and Luke Shaefer. This nonfiction book describes the little-known economy brought about by welfare reform in America, in which people survive on $2.00 or less a day. According to the book, this now includes 1.5 million households, with 3.5 million children. The book club discussion centered mainly on the public's lack of awareness of this group, learning how this is possible in our society, and specifically how people actually get by with so little material means.
All of the selections this month appeared to inspire members to pursue reading the selections that were new to them, and the discussion was lively and interesting. Please feel free to come and join the group!
December 14, 2016
Last month's meeting was a group reading and discussion of the children's book Don't Call Me the N-Word by Ken Overman. The book was shared by a member who is acquainted with the author and familiar with the book. Since it is written for children, she was able to read it aloud to the group while showing the illustrations on each page. She also brought extra copies, so that members were able to follow along as the story was read to them.
The book is short and written in verse, with drawings of children in the uniforms and clothing of several occupations that they act out to explore possible future occupations. The story illustrates some of the many positive labels that can be used to describe others, instead of labels such as the "N-word", and the clear message of the book is: "Don't call me the N-word; call me by a positive word". The author has spoken of expanding the book into a curriculum for children, addressing positive and negative labels. And although it is written for children, the book has the same message for others, and the author also plans to create a companion study guide for adults.
Discussion by book club members covered several topics. The ways in which children talk to each other in various cultures, the type of words used, and the impact of those words were explored. The group also discussed how the book could be presented and used in the classroom setting, a storytelling circle, or a parent reading to a child. The members talked about how derogatory words can be replaced with words describing virtues, and several members shared personal experiences with the little ones in their lives. There was also a discussion of stereotypes in general, and a member made the point that whenever a stereotype is used, there is always something hurtful to the person it is directed to, discounting their individuality. Members felt that the book could be a valuable tool to stimulate discussion with a wide range of people and groups.
The bookclub experience shared above is just a sample of the lively, engaging, and thought-provoking discussions enjoyed by book club members. You too are invited to join in this little group and talk about books and the impact they can make on the world.
November 9, 2016
The bookclub met last month on November 9 and discussed several items presented by individual members. First up was a New York Times article written by Harry Belafonte about what was at stake in the election from his perspective. He made use of a poem by Langston Hughes about how people of color, specifically African-Americans, relate to America as a country and an ideal not yet realized ("Let America Be America Again"). Members shared the poem and their responses to it, information about Harry Belafonte and his obvious talents as a writer, and a discussion of his ideas as presented in the article.
The next selection presented was a book: White Trash: The 400-Year Untold History of Class in America by Nancy Isenberg. This non-fiction study presents the background and history of a group of immigrants cast off from Europe as "waste people" coming to America beginning with the earliest British colonial settlements. The author challenges the standard view of American history and meritocracy, and discusses class injustice as a part of our history.
Wonder by R.J. Palacio, a young-adult fiction book, was then presented by a group member. It tells the story of a young boy with a significant facial malformation who is attending school for the first time in fifth grade, having been unable to attend previously due to his disability. The story is told from the boy's perspective, and also at times from those he interacts with, providing a more complex picture of the struggle for acceptance by those who are different in some way. The author calls her book "a meditation on kindness".
The last book presented for discussion was Stephen M.R. Covey's The Speed of Trust. This book covers both business and family processes, presenting the role of trust in how things get done at center stage. The author's thesis is that in situations where there is a high level of trust, it is more likely that productivity will go up, and that therefore the development of trust is very important in both business and family life. According to the presenter, the author defines trust, shows how it is important, and how it can be encouraged to develop, in an easy-t-read style, with stories, anecdotes, and diagrams illustrating the important points. Several members expressed interest in reading the book for either work or general information.
As the meeting was concluding, members were encouraged to share books that they were interested in even if they had not yet read them. A few of the titles mentioned in this way were: The Underground Railroad by Colson Whitehead, The Fire This Time by Jesmyn Ward, and Reading the Bible Again for the First Time by Marcus J. Borg. Thank you to all of the members who came and shared their selections, providing lots of good reading ideas for cold winter evenings!
October 12, 2016
At last month's meeting on October 12, 2016, members discussed the book 1491 by Charles C. Mann. The book is a detailed exploration of the Americas before Europeans came on the scene, from both anthropological and archeological perspectives. Response to the book was overwhelmingly positive, although some members had not yet completed reading it. Several members mentioned that the depth of information presented required time to reflect on and process, especially as it was often quite different from history as presented in the typical American education experienced by many of those present. The general consensus was that although information was presented in almost a textbook format, the author was able to maintain interest and provide interesting as well as informative detail. The writer also presented various controversies and/or possible alternative explanations for data and discoveries that have been made up to the time of the book's publication, and group members felt in general that this approach seemed fair and even-handed. The author seems to embody the best qualities of a teacher/writer, presenting information that is interesting and including scholarly detail, yet maintaining accessibility and providing appropriate context and explanations as needed. The overall discussion also included many individual observations of striking or unusual details noted by different members.
September 14, 2016
Last month's meeting on September 14, 2016, included engaging discussions of four books presented by individual members. The first book presented was Egypt in Africa by Theodore Celenko. It explores the nature of Egyptian art as it relates to the rest of the African continent, and draws parallels between the history of art in Egypt and that of other nations throughout Africa. Although art is the focus in this extensively illustrated book, it also explores connections through the views of many individual contributors with specialties in a variety of areas including physical anthropology, archeology, cultural studies, as well as art history.
The next discussion included two books: The Queen's Bush Settlement: Black Pioneers 1839-1865 by Linda Brown-Kubisch, and Elijah of Buxton by Christopher Paul Curtis. These books reference settlements in Ontario, Canada made up predominantly of escaped slaves who came on the Underground Railroad before the Civil War. The first is non-fiction, and the second a young adult fiction selection. These books engendered a lively discussion of many little-known aspects of life for the black pioneers who made this journey, and there were even a few personal connections to members of the group.
Next up for discussion was a non-fiction book titled Speaking Christian by Marcus J. Borg. This book addresses the historical context for many commonly-used Christian terms, and the author explains his ideas about how Christianity appears to have lost some of the historical meanings in favor of ideas and associations developed in more modern times. Discussion of a few of these specifically led to a far-ranging conversation about religious traditions and ideas, as well as history and connections to individual beliefs and organized religion.
The last book brought to the group by a member was The Time Traveler's Wife by Audrey Niffenegger. This book was presented as not only a very original and engaging story, but also as a catalyst for thinking about all sorts of ideas, including time, how people are called to deal with all sorts of challenging and unexpected situations, and the nature of love. The suggestion was made to include this as a group selection in the future.
Although the books presented represented a wide variety of topics and ideas, they all appeared of interest to those who presented and to the rest of the group. We look forward to an in-depth discussion of next month's book 1491 by Charles C. Mann.
August 10, 2016
Last month's meeting on August 10, 2016, was devoted to a reflection about how the book club has progressed, and a discussion of ideas and suggestions for how we should proceed in the coming months. We talked about the books we have read, and exciting books yet to be discovered and shared with the group. Participants shared thoughts and ideas about book discussions, how best to structure our meetings, and how to invite new friends (both Baha'i and non-Baha'i) into our reading circle. We decided to have another consultation in about six months to evaluate our progress and see what has been working and/or what needs further discussion. We have planned our schedule until the new consultation, and will plan how to continue at that time.
July 13, 2016
Individual members shared information on books they are currently reading. Books were varied in subject matter and diverse in times and places they portrayed. Some past book club meetings included the following titles (In no particular chronological order):
King Peggy by Peggielene Bartels
Hitler's Black Victims by Clarence Lusane
Together Tea by Marjan Kamali
The Lemon Tree by Sandy Tolan
Ahab's Wife by Sena Jeter-Naslund
Racial Healing: A Safe Place to Talk About Race by Sharon E. Davis
Aimless Love by Billy Collins
It Ain't So Awful Falafel by Firoozeh Dumas
The Five People You Meet In Heaven by Mitch Albom
The Souls of Black Folk by W.E.B. Du Bois
Being Mortal by Atul Gawande
Geography of a Life by Martin Bernal
The Story of Owen: Dragonslayer of Trandheim by E. K. Johnston
The Women of Evin Ward 209 by Jila Baniyaghoob
Still Life (The Armand Gamache Mystery Series) by Louise Penny
The Book Thief by Markus Zusak
Love of Math: The Heart of Hidden Reality by Edward Frenkel
In addition to the books, last meeting's group also discussed planning a celebration of what we have accomplished so far as a club, and looking toward the future and how we would like to structure our process. Our next meeting will include a consultation of these issues as well as individual book presentations. Everyone is invited to come and have input into future meetings and their structure.
June 8, 2016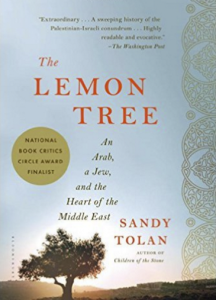 Our meeting included some new members, which expanded the discussion and added new context. The book selection was The Lemon Tree: an Arab, a Jew, and the Heart of Palestine by Sandy Tolan. This non-fiction book tells the history of Palestine, with emphasis on the period from 1948 to the present. At its center are two families, one Arab and one Palestinian, who both have histories with a house in what is now Israel. An unlikely friendship develops between a young Jewish woman who currently occupies the home built by the Arab father for his family, and the young Arab student revisiting the home his family was forced to leave. The author presents a comprehensive and balanced picture of the struggle history has given both Arabs and Jews in Palestine as he develops the story of the struggle of the two characters to understand each other and to become and remain friends.
Despite differences in prior knowledge regarding the issues presented in the book, all of those reading it appeared to see it as a very worthwhile addition to their understanding. Some felt the book would be a good tool for use in education in high school or college. The discussion also drew parallels between the Palestinian-Israeli conflict and other conflicts throughout history, especially with colonialism as a backdrop.
May 11, 2016
The May Circle of Friends Book Club meeting was held May 11, 2016, and included discussions of a variety of topics related to books presented by bookclub members. Monkeys, Myths, and Molecules by Dr. Joe Schwarcz, Fracture: Barack Obama, the Clintons, and the Racial Divide by Joy-Ann Reid, Race Amity: A Primer on America's Other Tradition by W.H. Smith and Richard Thomas, and The Lemon Tree by Sandy Tolan, were all presented by individual club members. These selections engendered lively discussions on many topics including current television and internet personalities that may not be able to substantiate information they are disseminating, the role of our current President in the political climate of the upcoming presidential election, race amity as opposed to enmity in American history, and the Palestinian conflict. A club member also brought along some "Mummy's Nummie Yummies" for us to sample (thank you Sandra!).
Past Book Club Selections
Past book club selections have included Racial Healing: A Safe Place to Talk About Race by Sharon E. Davis, W.E.B. Du Bois' The Souls of Black Folk, The Warmth of Other Suns by Isabel Wilkerson and The Lemon Tree by Sandy Tolan. Selections are chosen by group consensus. There are also meetings that are centered on individual choices brought to share with the group. Club members have been introduced to a wide variety of books of all genres, both fiction and non-fiction. Books brought by individual members to share have included: Monkeys, Myths, and Molecules by Dr. Joe Schwarcz, Fracture: Barack Obama, the Clintons, and the Racial Divide by Joy-Ann Reid, Race Amity: A Primer on America's Other Tradition by W.H. Smith and Richard Thomas, and Bahá'í Black Men's Gathering by Frederick Landry, Harvey McMurray, and Richard Thomas.