Circle of Friends Book Club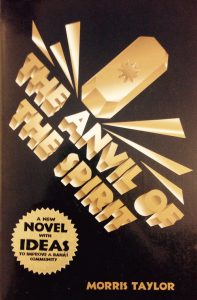 All are welcome! Next bookclub meeting: Wednesday, June 13, 2018 at 7 pm at the Bahá'í Center. The meeting will be a discussion of the book The Anvil of the Spirit by Morris Taylor.
The Circle of Friends Book Club is one of the many groups that are meeting at the Baha'i Center of Washtenaw County. Dedicated to exploring books of all sorts, the group meets on the second Wednesday of every month from 7-9 pm. Both Baha'is and non-Baha'is are welcome at bookclub. Please join us for lively conversation, new information about books, and exchange of ideas in a comfortable small group atmosphere. Come and enjoy light snacks and lots of laughter too!
A detailed outline of the results of our consultation is available from bookclub members or by emailing circleoffriendsbooks@gmail.com. Please come and join us at any bookclub meeting!
Visit the event calendar for more info on upcoming book club dates.
Past Book Club Meeting summaries
Circle of Friends Book Club meeting summary for May 2018

May 9, 2018

Our last meeting included a reflection on our previous six months, and planning for the rest of the year. The group was positive about the use of themes in our book selections, and decided to continue their use. Members felt that use of themes encouraged expanded variety of both books and genres, and were hopeful that this variety could appeal to non-Baha'is as well as Baha'i members. Reflection also included a discussion of suggestions to attract more members and increase participation, including holding more events (such as the author lecture held last year), announcing the bookclub more often at events to increase awareness, calling people with personal invitations, and ensuring that all types of announcements/invitations are clear that the bookclub is not specifically a Baha'i book club. (more…)

Circle of Friends Book Club meeting summary for April 2018

April 11, 2018

Our last meeting was a discussion of The Saddlebag, a book by Bahiyyih Nakhjavani. It is based on an anecdote about the theft of a saddlebag from the Bab, recounted in The Dawn-Breakers (pg. 103). Ms. Nakhjavani imagines the travels of the saddlebag after the theft, and how each person coming in contact with it, and the writings it contains, is affected.

Bookclub members were quick to point out the many Baha'i references contained in the story, which also has characters from most, if not all, of the current world faiths. As the setting is the area around Mecca and Medina, readers also discussed the many cultural references, some of which were understandable to western readers, and some of which were not. For example, the Bride is bringing her dowry along, marriage is arranged, and a slave is present. Superstitions play a part in the plot, but there are also occasions of apparent precognition or "sight". (more…)

Circle of Friends Book Club meeting summary for March 2018

March 14, 2018

Bookclub members brought their personal choices in the area of fantasy to last month's meeting. The initial selection was West Indian Stories, edited by Andrew Salkey. The discussion centered on a Jamaican tale of the interaction between an American white woman and a Jamaican black man. Since the narration included the characters' thoughts and perceptions as well as the events portrayed, it led to a deeper discussion of prejudice, assumptions people make about each other, and how actions and reactions can lead people to question themselves in these areas, leading to more genuine understanding of themselves and others. (more…)
View all past meeting summaries
Past Book Club Selections
Past book club selections have included Racial Healing: A Safe Place to Talk About Race by Sharon E. Davis, W.E.B. Du Bois' The Souls of Black Folk, The Warmth of Other Suns by Isabel Wilkerson and The Lemon Tree by Sandy Tolan. Selections are chosen by group consensus. There are also meetings that are centered on individual choices brought to share with the group. Club members have been introduced to a wide variety of books of all genres, both fiction and non-fiction. Books brought by individual members to share have included: Monkeys, Myths, and Molecules by Dr. Joe Schwarcz, Fracture: Barack Obama, the Clintons, and the Racial Divide by Joy-Ann Reid, Race Amity: A Primer on America's Other Tradition by W.H. Smith and Richard Thomas, and Bahá'í Black Men's Gathering by Frederick Landry, Harvey McMurray, and Richard Thomas.