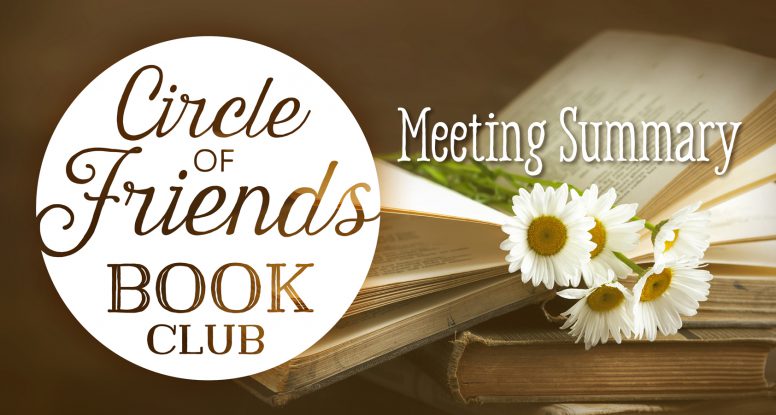 Circle of Friends Book Club meeting summary for March 2017
March 8, 2017
The theme for the March meeting was books about/by women. Three books were presented by club members and discussed. The first was Hidden Figures by Margot Lee Shetterly. This book tells the true story of a group of talented African-American women who worked at NASA as "human computers" when the Space Race was young. The book is the basis for the popular movie, and one of the heroines profiled, Katherine Johnson, was feted at this year's Academy Awards. Discussion of this book centered on Katherine Johnson, and her ability to perform high-demand mathematical work in her indispensable role in spite of facing Jim Crow laws and restrictions placed on female talent.
The second selection was I Am Malala by Malala Yousafzai, with Christina Lamb. Despite her youth, Malala Yousafzai became a heroine and role model to many after resisting the Taliban by being openly committed to attending school and encouraging other girls to do so. After being shot in the head while on her school bus by a Talib, she made a long and difficult recovery including leaving her homeland for medical assistance and safety in England. She recounts her story with courage and honesty, and a degree of self-awareness that belies her age. She has also continued to make her strong support for education for girls and young women known at events around the world. In her autobiography, Malala comes across as both a heroine and a typical young girl, which is quite an accomplishment.
Our last selection was Compassionate Woman by John Kolstoe. This book is the biography of Patricia Locke, a person familiar to many Baha'is. In recounting the book and its information, the member presenting it was able to give other members background on this women who many know "of" but perhaps not a lot "about". Patricia Locke was given the Native name "Compassionate Woman" and the group learned how her life of service truly exemplified that name. Her particular concerns included education (particularly on the reservations), justice, assistance across all cultures, and the preservation of Native languages. Patricia Locke was also a writer, university instructor, and community activist. She was the first American Indian who was a senior officer on the National Spiritual Assembly of the Baha'is of the United States.
All of these women were pioneers in their fields of endeavor, and each an outstanding example of female strength, perseverance in the face of difficulty, and willingness to stand up for justice in the world.