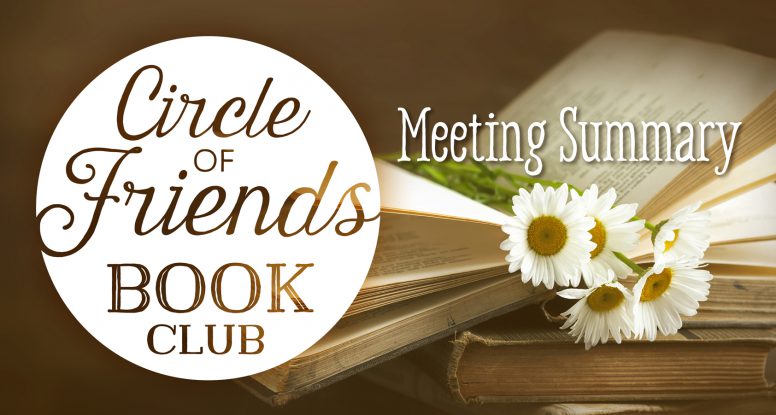 Circle of Friends Book Club meeting summary for May 2018
May 9, 2018
Our last meeting included a reflection on our previous six months, and planning for the rest of the year. The group was positive about the use of themes in our book selections, and decided to continue their use. Members felt that use of themes encouraged expanded variety of both books and genres, and were hopeful that this variety could appeal to non-Baha'is as well as Baha'i members. Reflection also included a discussion of suggestions to attract more members and increase participation, including holding more events (such as the author lecture held last year), announcing the bookclub more often at events to increase awareness, calling people with personal invitations, and ensuring that all types of announcements/invitations are clear that the bookclub is not specifically a Baha'i book club.
Looking ahead to the next months, members discussed several possible themes including the arts, specific types of books such as biographies to stimulate discussion, and ideas for specific events that would encourage more participation, such as guests of honor/featured speakers, events around literature such as story-tellers or cultural stories, and/ or educational topics such as art or history. A new schedule for the upcoming months was generated:
June 13, 2018
Theme: Community Building
Group Discussion: The Anvil of the Spirit by Morris Taylor
July 11, 2018
Theme: Community Building
Personal Choice of Book
August 8, 2018
This session will be devoted to planning a special event for September, with a personal choice of book if time allows
September 14, 2018 or other date in September if needed
Special event such as guest speaker, story-tellers, cultural or arts presentation
October 10, 2018
Theme: Poetry
Personal Choice of Book
November 14, 2018
Theme: Poetry
Poems by Robert Hayden
December 12, 2018
Reflection/Consultation on upcoming months
The group decided to host another event tentatively planned for September 14. This follows the normal second week schedule for book club, but moves the date to a Friday to allow families to attend without having to leave early because of weekday activities like school. Possibilities include a Nigerian story teller known to a member, musical performances, poetry and/or other readings. The group generated a list of possible speakers as well. The date for the event will need to be flexible to accommodate speakers/ performers and the schedule at the Center.