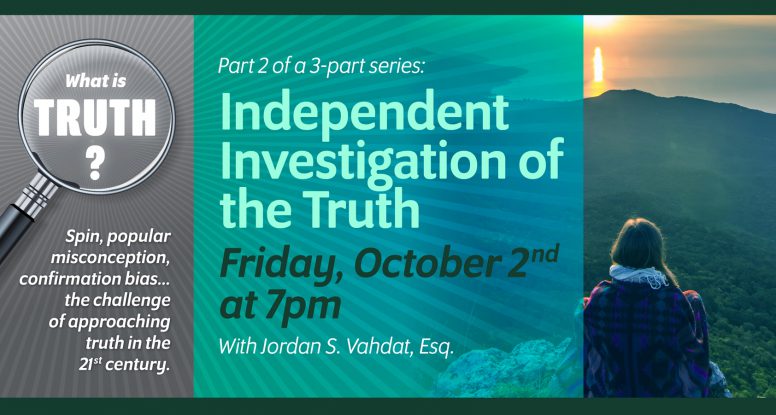 What is TRUTH, Part Two: Independent Investigation of the Truth
When:
October 2, 2020 @ 7:00 pm – 9:00 pm
2020-10-02T19:00:00-04:00
2020-10-02T21:00:00-04:00
Watch the recorded presentation
Password required: @Tg7.r1Y
In the second part of the series "What is TRUTH?", we will examine truth and evidence from a Bahá'í and legal perspective. We will discuss some objective indicators of truth in the context of the law. We will also delve into the Bahá'í principles surrounding the "Independent Investigation of Truth" and how we can apply these teachings in a world of "fake news" and the sensational bait-to-click online atmosphere we currently find ourselves in.
"… every individual member of humankind is exhorted and commanded
to set aside superstitious beliefs, traditions and blind imitation of ancestral forms in religion and investigate reality for himself."

"… see with thine own eyes and not through the eyes of others."

"In order to find truth we must give up our prejudices, our own small trivial notions; an open receptive mind is essential."
~ Quotes from the Bahá'í Writings ~
About Jordan S. Vahdat:
Attorney Jordan S. Vahdat was a McNair Scholar at Eastern Michigan University and graduated Cum Laude with a Bachelor's Degree in Political Science. Mr. Vahdat received a Merit Scholarship to attend the University of Arkansas — William H. Bowen School of Law. In law school, Mr. Vahdat served as President of the Hispanic Law Students Association and as Publications Editor for the Arkansas Journal of Social Change and Public Service. Mr. Vahdat takes great pride in being a zealous advocate for each and every client. He is admitted to practice law in all Michigan State Courts and in several Federal U.S. District Courts, including both the Eastern and Western Districts of Michigan, the Southern District of Texas, and the Southern District of California. Mr. Vahdat is a Trial Lawyer and Managing Partner at Vahdat Weisman, PLC, a Metro-Detroit based law firm that specializes in personal injury litigation.
Click to download a flyer: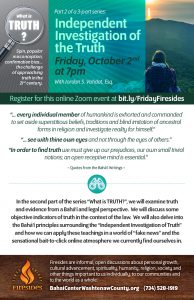 About the series "What is TRUTH?"
This three-part series of online discussions will delve into the challenge of approaching the conflicting perceptions of reality that plague humankind and how deprivation of education, reliance on ancestral knowledge, and the clashes between 'rational' and 'spiritual' entities erode the fabric of peaceful coexistence. We will examine how basic teachings of the Baha'i Faith address these problems and provide remedies toward realizing the essential oneness of humankind. Featuring:
Universal Education– Friday, September 4th, 2020 at 7pm
Independent Investigation of the Truth– Friday, October 2nd, 2020 at 7pm
Harmony of Science and Religion– Friday, November 6th, 2020 at 7pm