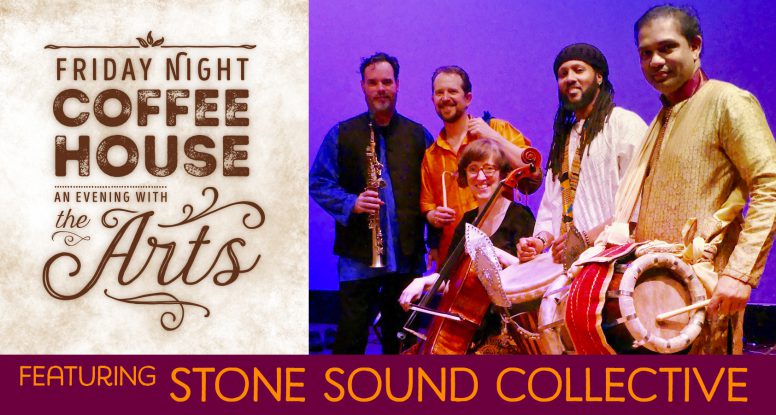 Friday Night Coffee House ~ An Evening with the Arts
When:
September 27, 2019 @ 7:30 pm – 9:30 pm
2019-09-27T19:30:00-04:00
2019-09-27T21:30:00-04:00
Where:
Bahá'í Center of Washtenaw County
5550 Morgan Rd
Ypsilanti, MI 48197
USA

Contact:
Paul Harrison
(734) 528-1919
The Bahá'í Center Committee invites you to the monthly Friday Night Coffee House!
Enjoy entertainment by the Stone Sound Collective, as well as coffee, light dinner & refreshments, and fellowship.
Free admittance and refreshments, however dinner donations are appreciated to support the entertainers and expenses!
About the Stone Sound Collective
Prof. Mark Stone is a composer-performer with a passion for using music to bring diverse communities together. An internationally recognized multi-percussionist, Stone has performed with the foremost musicians of Uganda, Ghana, South Africa, India, Trinidad, Ecuador, and the United States. As a composer his work is rooted in traditions stretching from classical Indian music to European concert music and American jazz to traditional African music. The cross-cultural capacity of his music has been described as, "revolutionary to our musical landscape. The experiences he gained traversing geographical borders has put him in a unique position to cross genre borders and break conceptual boundaries."
His newest project, the Stone Sound Collective, crosses these borders and boundaries as it unites diverse musicians and instruments. The group brings together ancient percussion traditions of Africa and India with the lyricism of stings and saxophone. The collective performs original compositions rooted in its member's wide-ranging musical influences, creating music that celebrates the oneness of humanity by uplifting hearts, expanding minds and connecting souls.
In the group, Stone plays the newly-invented array mbira, an American-made 120 key lamellaphone and a wide range of traditional melodic African instruments, including the Ghanaian gyil, Ugandan akogo, and South African karimba. He is joined by Matt Dufresne (saxophones, flute, atenteben, and nadaswaram), Abigail Alwin (cello), Chinelo Amen-Ra (djembe, congas, and cajon) and Vinod Seetharaman (mridangam and kanjira). These established artists freely cross musical boundaries with their dynamic playing and are exceptional improvisers, bringing a wide-range of performance experience and artistry to the Stone Sound Collective. Through their music the collective aims to contribute to the development of vibrant and inquisitive communities where people see, hear, and experience the many ways we are all connected.