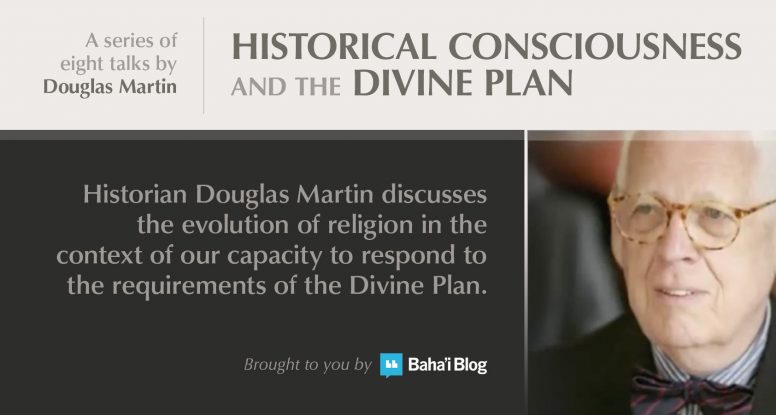 Historical Consciousness and the Divine Plan: A Series of 8 Talks by Mr. Douglas Martin
The following content is from Baha'i Blog.
---
IN THIS SERIES OF EIGHT TALKS, historian Douglas Martin discusses the evolution of religion in the context of our capacity to respond to the requirements of the Divine Plan.
Douglas Martin was born in 1927 in Ontario, Canada. He held a Bachelor's degree in business administration from the University of Western Ontario and a Master's degree in history from the University of Waterloo, Ontario.
He was a member of the National Spiritual Assembly of the Baha'is of Canada from 1960-85, serving as its general secretary from 1965-85. From 1985-93 he was director-general of the Baha'i International Community's Office of Public Information at the Baha'i World Centre in Haifa.
Mr. Douglas Martin was also a former member of the Universal House of Justice, the governing body of the Baha'i International Community (for more information, please visit: universalhouseofjustice.bahai.org).
Mr. Martin passed away on 28 September 2020 in Toronto, Canada. You can read a tribute to him by the Universal House of Justice on the Baha'i World News Service: news.bahai.org/story/1455/
---
A transcript of the Introduction (Talk 1) is provided below, courtesy of bahaicenterwashtenawcounty.org.
TALK 1: INTRODUCTION
"You know it wasn't all that long ago—maybe a century, a century and a half ago—that a subject like evolution, development, even progress itself, was pretty well-limited to scholarly circles. And it was only in the middle of the nineteenth century that very slowly, and as a result of the work of people like Darwin and so on, that it entered the popular discourse—and it has come to the point now that of course that it's second nature for us. In fact, you assume everything is evolutionary. We understand that life on earth has evolved. We understand that we ourselves were at a different shape at one time in distant, distant history. Society evolves, civilization evolves, cultures evolve—even science and technology, people talk about them evolving. Almost everybody looks at it that way. Obviously there are some segments of mankind that are uncomfortable about evolution, but they are the very rare exception. There's only one area of human consciousness in which this is not true, people do not think of in evolutionary terms, and very strange: that crucial area of human consciousness is humanity's relationship to God. We do not think of that in evolutionary terms at all. Quite the opposite. To attempt to do so, you run into very quickly a great deal of opposition. The great religions of world—Christianity, Judaism, Islam, Buddhism, Hinduism, Zoroastrianism, whatever—are distinct religions. And far from seeing themselves as evolving phenomena, their concern has always been to keep in close touch with the roots of the religion. And in fact when people are out of touch with the roots of the religion, scholarship has devoted itself to recovering the roots of religion—the original Christ, and so on. Of course the idea that all of them would be seen as one evolutionary process would be anathema to, safe to say, to followers of most great religions.
"Well Baha'u'llah has completely recast the whole nature of religion. Probably, it would be more accurate to say that the Bab originally recast the whole nature of religion as one evolutionary process: as one system of knowledge that stretches back beyond the reaches of recorded time, and will go on that way. It's a system of knowledge that has taught humanity values, and has done so progressively. It's not merely one after the other, but a developing, an unfolding process. And we as Baha'is are now quite comfortable—we live, you might say, we live comfortably in history. In fact we can't think of religion, probably it is safe to say, in any other terms than evolutionary terms. Religion is progress by its very nature, and that's not only progress through the revelation of these various prophetic religions, but within the Baha'i Faith itself. From the Bab, to Baha'u'llah, to the ministry of 'Abdu'l-Baha, to the emergence of the Administrative Order with the Guardianship, and after that, the Universal House of Justice.
"I remember when I was first investigating the Baha'i Faith—more years ago than I care to think about—I couldn't understand why they had to have two Manifestations of God [laughs]. I mean, one was enough for the Buddhists, for the Christians, for the Muslims—even for the Jews, they had at least one at a time with great stretches of centuries in between. Why did the Baha'is have to have two Manifestations of God? Well of course I was missing the point. And the point is evolution. The point is progress. There is a development. The Bab had certain things to achieve during His very, very short mission. We'll talk about that at a later stage in this series of discussions, and Baha'u'llah, others, and so on. And that's how we have been taught to look at religion, and we're at home in it.
"What we have to be very careful about is that we don't begin to think that this process somehow ended, say, with the ministry of 'Abdu'l-Baha or the ministry of Shoghi Effendi, the Guardian of the Faith. Evolution is an ongoing process. Evolution is reality. Evolution is a fundamental feature of all aspects of life and most particularly of religion—of the gradual development of values that drive the advancement of civilization. In discussing this evolutionary process, we have to start with the point that Baha'u'llah makes very strongly: that we are living in the coming of age of humankind. All of the other revelations of God—the prophetic revelations—were preparing mankind for this day. Obviously they taught, they cultivated certain qualities, certain capacities in the individual soul—but they also promised that the day would come when the whole of society would be transformed, when the Kingdom of God would come on earth, when the Will of God would be done on earth as it was done in Heaven, and so on. Both the personal, and the social.
"Well, the Baha'i Faith is not prophetic. The Baha'i Faith is this day. We are living in the day of the coming of age of the human race—the collective coming of age of the human race—in which we can see ourselves as one single people occupying one single homeland, which is the earth. You could say, really, that human history is starting today with us because the histories of the past were the histories of different peoples or different races or dynasties, or whatever. And since this is the case, and since we are involved, we are engaged in the construction of at least the foundations of the Kingdom of God on earth, the foundations of a global society, the foundations of a really functioning, united human race, and the development of what you could call universal civilization—that's what life is about for us. We have to be aware that the building process, the process itself, is obviously progress, it's obviously development or evolution, if you want to call it that. You move from one stage to another, from the foundations to the next stage, and so on, ultimately to the roof. So, we are living in an evolutionary process in our religious life, just as is happening to mankind generally in physical life and material life of the planet. And in doing so, there's a huge challenge. And the challenge is, obviously, the Cause is going to keep on evolving because the Covenant of Baha'u'llah is not going to be suddenly arrested, is not going to be sidetracked—nothing like that is going to happen. It's going to keep on evolving, maybe even at an accelerating pace during crucial periods. This issue is will we keep on evolving, will I keep on evolving, as an individual? Will I keep up? I don't want to wake up and suddenly discover that I'm standing by the side of the road, reflecting, while the Baha'i Cause is miles down ahead of me someplace, and accelerating. If that were to happen, I would have become a bystander. I would have become somebody who's no longer engaged in a building process that is the whole purpose of human life. Especially the purpose of life for a Baha'i.
"So what we want to do in this series of discussions is to take a look at some of the historical circumstances, both outside the Baha'i Faith and within the Baha'i Faith, that draw the implications of what I've been talking about for us, that make it easier for us to understand, because after all, Baha'u'llah says God's greatest gift to man—it's not love, it's not mercy, it's not any number of other things you might be able to think of—the greatest gift of God to mankind is reason. We are not just souls, we are rational souls. Faith, Baha'u'llah says, for a Baha'i, is not merely blind belief—though it can be blind in circumstances that require it—faith is conscious knowledge. Faith is conscious knowledge that leads to action. And that being the case, we want to understand what we're doing, and we want to understand why we're doing it—at least to the best of our ability. We serve the Cause because we love Baha'u'llah. We serve the Cause in a particular way because we believe absolutely in the guidance of the Universal House of Justice. But to the extent we can, we have to try to understand why—because understanding empowers us. And as I say, the thing we do not want, as individuals, is to find ourselves left behind. I can't imagine a tragedy greater for an individual who has recognized Baha'u'llah."