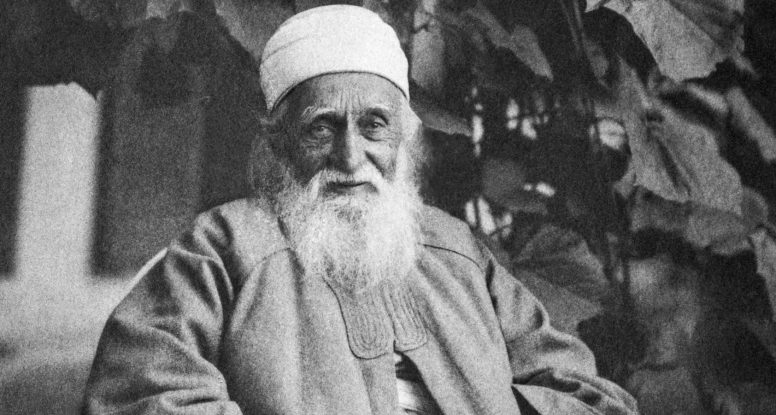 "Recreating Ourselves in the Image of the Master": A series of talks by Tom Price on 'Abdu'l-Bahá, the Perfect Exemplar
Photo: 'Abdu'l-Bahá in Dublin, New Hampshire, 26 July 1912 © 2020 Bahá'í International Community
---
NEXT YEAR, IN 2021, Bahá'ís around the world will be commemorating the centenary of the Ascension of 'Abdu'l-Bahá.
Shoghi Effendi, 'Abdu'l-Bahá's eldest grandson and appointed Guardian of the Bahá'í Faith, said that 'Abdu'l-Bahá should be regarded "first and foremost, as the Center and Pivot of Bahá'u'lláh's peerless and all-enfolding Covenant, His most exalted handiwork, the stainless Mirror of His light, the perfect Exemplar of His teachings, the unerring Interpreter of His Word…"
'Abdu'l-Bahá accomplished many achievements during His life, but "the most outstanding achievement that will forever be associated with 'Abdu'l‑Bahá's ministry," according to Shoghi Effendi, is "the establishment of the Faith of Bahá'u'lláh in the Western Hemisphere."
In 2012, Tom Price, a Bahá'í songwriter, conductor, musical director and public speaker, gave a series of talks at the Tennessee Bahá'í School as part of a commemoration of the 100th anniversary of 'Abdu'l-Bahá's travels to the West. He opens the first discussion by recalling an August 2010 message from the Universal House of Justice which articulates that this is a time for more than just commemoration. The message states: "The words uttered by 'Abdu'l‑Bahá during His travels, and the deeds He undertook with such consummate wisdom and love, offer an abundance of inspiration and manifold insights from which the body of the believers can today draw, whether in their efforts to embrace receptive souls, to raise capacity for service, to build local communities, to strengthen institutions, or to exploit opportunities emerging to engage in social action and contribute to public discourse."
In his talk, Tom continues:
What do you think of when you think of 'Abdu'l-Bahá? The only thing you should be thinking of when you think of 'Abdu'l-Bahá is yourself. Every time you see 'Abdu'l-Bahá or you hear a story of Him it should be a challenge to you to do the things that He did. He said something very interesting. He said, "Look at me, follow me, be as I am." A simple three-phrase, nine-word sentence, and yet it encapsulates three processes.
One: to look at Him. That's the first stage, to look at Him, to study Him, to read the stories… and some of us, we think we just want to stay in that first stage, because it's so enjoyable — to read the stories and to laugh and to enjoy Him.
But there's a second stage: to follow Him. In other words to copy Him, to try and duplicate…
But there's even a third stage: Be. Being is a much higher stage than even copying. You can blindly copy something, without really understanding. So even 'Abdu'l-Bahá in this simple sentence lets us know that there is a journey that we must all take on the spiritual path which starts with looking at Him, but then must immediately proceed to copying Him, which then proceeds to actually being like Him.
Tom goes on to explain the challenge he faced as he tried to distill the innumerable qualities of 'Abdu'l-Bahá — Who as Shoghi Effendi states, is "the embodiment of every Bahá'í ideal, the incarnation of every Bahá'í virtue" — down to only six for the purpose of presenting during the series of six discussions. (You will have to listen to the series to find out what they are!)
Often playfully interacting with the audience, Tom Price is a talented speaker who articulates his topics reverently yet with humor and whimsy. This series of talks on "Recreating Ourselves in the Image of the Master" will surely inspire you to look at, follow, and be like 'Abdu'l-Bahá.