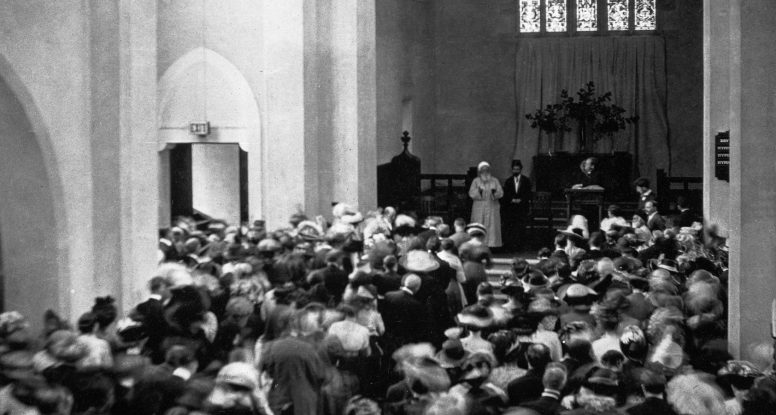 An Introduction to The Promulgation of Universal Peace
The following article, authored by Matthew Brand, is from Baha'i Blog. Photo: 'Abdu'l-Bahá addressing a large gathering at the Plymouth Congregational Church, Chicago, Illinois, 5 May 1912 © Bahá'í International Community
On April 11, 1912 in New York City, Abdu'l-Baha commenced 239 unforgettable days traversing the North American continent with this warm greeting: "How are you? Welcome! Welcome!" How typical it was of His generosity of spirit that He should be welcoming His devotees as His own guests!
After arriving today, although weary with travel, I had the utmost longing and yearning to see you and could not resist this meeting. Now that I have met you, all my weariness has vanished, for your meeting is the cause of spiritual happiness.1

This long voyage will prove how great is my love for you. There were many troubles and vicissitudes, but, in the thought of meeting you, all these things vanished and were forgotten.2
Abdu'l-Baha's loving words of encouragement and guidance continue to ring out more than a century later, inviting readers today to follow in His footsteps through the pages of The Promulgation of Universal Peace, the indispensable collection of talks and discourses He gave during His North American sojourn.
His was undoubtedly one of the most taxing teaching journeys ever undertaken in religious history. For eight months, Abdu'l-Baha would pass through major cities, from the Eastern seaboard, via Canada, to the Pacific coast. "Though bent with age," Shoghi Effendi wrote, "though suffering from ailments resulting from the accumulated cares of fifty years of exile and captivity, Abdu'l-Baha set out on His memorable journey across the seas to the land where He might bless by His presence, and sanctify through His deeds, the mighty acts His spirit had led His disciples to perform."3
Uniquely captured through His own words in The Promulgation of Universal Peace, the reader discovers how—in the words of the Universal House of Justice—Abdu'l-Baha tirelessly,
…expounded the teachings in every social space: in homes and mission halls, churches and synagogues, parks and public squares, railway carriages and ocean liners, clubs and societies, schools and universities. Uncompromising in defence of the truth, yet infinitely gentle in manner, He brought the universal divine principles to bear on the exigencies of the age. To all without distinction – officials, scientists, workers, children, parents, exiles, activists, clerics, sceptics ­– He imparted love, wisdom, comfort, whatever the particular need.4
It is thanks to the strenuous efforts of an early American Baha'i, Howard MacNutt, that The Promulgation of Universal Peace came to be published. MacNutt and his wife Mary hosted, or took notes, at 17 of the 140 talks included in the book. At these and His other presentations, Abdu'l-Baha expounded the principles of His Father's Faith. Over and again, He spoke of the equality of men and women, the harmony of science and religion, the coming of age of the human race, the need for universal education and a universal language, the independent investigation of truth, the oneness of God and the continuity of the messages of His Manifestations, the unity of humanity and the elimination of prejudices of all kinds, and the oneness of religion as a social force for establishing world order—each of them the essential pre-requisites for universal peace.
During Abdu'l-Baha's journeys, and for some years afterwards, His addresses appeared in print in the Baha'i magazine Star of the West. Howard MacNutt collected those that had already been published, as well as any others he could find, with a view to producing a book. Abdu'l-Baha encouraged his efforts but stressed the importance of including accurate translations:
The addresses of Abdu'l-Baha which thou hast compiled and which thou intendest to print and publish is indeed very advisable…But this is to be undertaken with the utmost carefulness, so that the exact text may be reproduced and will exclude all deviations and corruptions committed by previous interpreters.5
By 1919, MacNutt had made significant progress. Abdu'l-Baha recommended to him the title The Promulgation of Universal Peace and stressed the importance of MacNutt himself writing its introduction, "so that he may leave a permanent trace behind him."6
"In obedience to the direct command of Abdu'l-Baha, the introduction was written by a humble follower of His life and a devoted lover of His beauty," MacNutt wrote.7
Abdu'l-Baha's stay in America made an immense impact on its nascent Baha'i community. Following the publication of The Promulgation of Universal Peace in 1922, the MacNutts increased their own travels especially to cities in Florida. There, Howard took to heart Abdu'l-Baha's teachings, particularly befriending the African American community at a time when lynchings by the Ku Klux Klan were commonplace. Sadly, in November 1926, Mary MacNutt suffered a fall and died three weeks later. As a result of the ordeal, Howard lost 40 pounds and reportedly grew "silent and absent-minded."8 Shortly afterwards, he was fatally injured after being struck by a motorcycle on his way to a meeting with Black friends in Miami.
Shoghi Effendi posthumously named MacNutt a Disciple of Abdu'l-Baha and counted him as one of eight believers who "will for ever remain associated with the rise and establishment of His Faith in the American continent, and will continue to shed on its annals a lustre that time can never dim."9
Producing The Promulgation of Universal Peace was Howard MacNutt's lasting contribution to Baha'i literature. Though not strictly speaking a work by Abdu'l-Baha, it now has an exalted place among His collected writings and talks. The Promulgation of Universal Peace enables us "to sit in the front row and listen as Abdu'l-Baha patiently explains facet after facet of the Baha'i Faith, showing how each can help bring hope and peace and balm to our troubled world, as He said we must, 'to give these principles unfoldment and application in the minds, hearts, and lives of the people.'"10
You can read this priceless text in its entirety on the Baha'i Reference Library: The Promulgation of Universal Peace
---