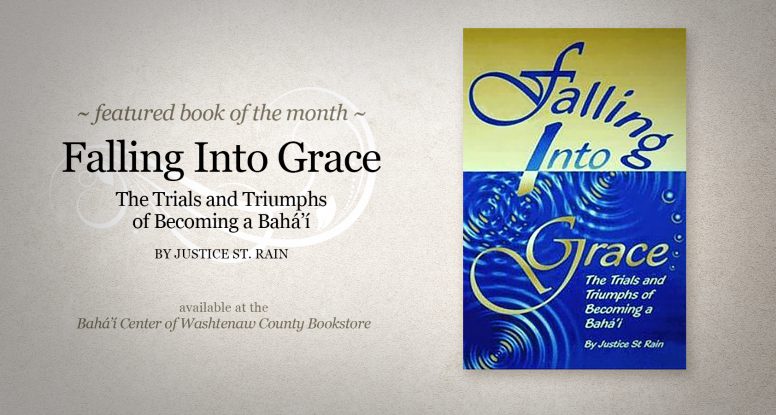 Falling Into Grace By Justice St. Rain
Falling Into Grace: The Trials and Triumphs of Becoming a Bahá'í
By Justice St. Rain
This book is directed to those new to the Baha'i Faith. Its focus is on examining the process of becoming a part of the Baha'I Community, and attempting to make that process smoother and easier for the new believer. Written with candor and humor, the author's perspective makes this book a valuable read whether one is a new Baha'i, a member of long-standing, or someone in between. It contains a wealth of well-organized information, as well as insights for how to approach difficulty whether struggling with an issue oneself, or attempting to assist someone else in the Faith. And it also speaks at length to the blessings of membership in the Faith and the value of approaching difficulties from a positive perspective. Although Justice St. Rain is very clear that the book is written from his individual perspective, and that readers should practice independent investigation of truth, his experience and insight make for thoughtful reflection and increased understanding of a reader's own personal experiences as a member of the Baha'i Community.

The book is written in two parts. Part I details the process of transformation and adaptation to change. It also contains a large section of basic information relative to the needs of the new believer, and explains the general structure of community life in the Faith (even including a section on vocabulary labeled "Baha'i Lingo"). The second part focuses on what stumbling blocks may interfere with a believer's ability to "fall in love with Baha'u'llah and live the life", and gives perspective on how these may be better understood and overcome. The author's empathy, thoughtfulness, and emphasis on the positive in this area can lead a more experienced believer to wish the book had been available at the time they were new to the Faith!
From the book:
So the purpose of the first third of this book is to outline the stages which most people go through in response to major changes in their lives, and to discuss how they might feel as a new Baha'i. Then I will discuss some of the qualities of Baha'i life which, because they will inspire a change in your life, may trigger a stress response. Finally, I will discuss some of the laws and principles that may dismay or confuse you, and offer perspectives and advice on how to learn from them.
Find this book at our Bahá'í Center bookstore.