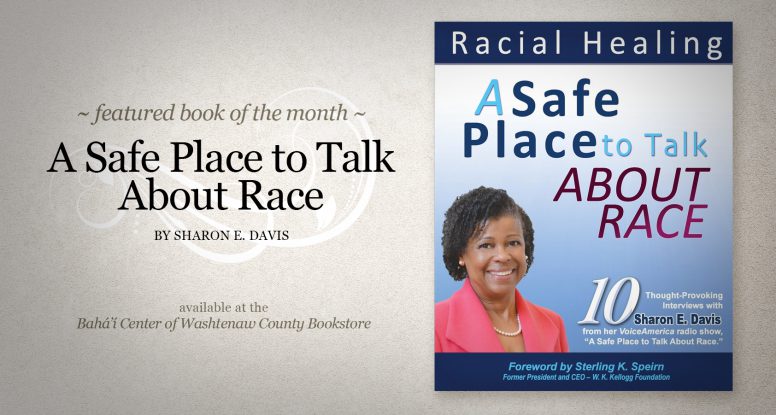 A Safe Place to Talk About Race by Sharon E. Davis
Sharon E. Davis is host of the VoiceAmerica radio show which shares the title with her book "A Safe Place to Talk About Race". The main body of her book is composed of ten interviews from her radio show focusing on racial healing. Ms. Davis opens the book with a personal introduction which clearly conveys her in-depth understanding of racism and what she sees that the process of healing it entails. She also includes her ideas for what the reader should expect from the book, and suggestions for how best to use it.
The interviews making up the main section can each stand alone as testament to the complexities in the areas addressed, but stand together as a learning experience that will offer new insights to almost any reader. The author has spoken of the difficulty she had with choosing which interviews to include in the book, but she appears to have done an excellent job with narrowing the offerings to ten. Some interviewees are immediately familiar (such as New Orleans mayor Mitch Landrieu and author Tim Wise), while others have more personal tales to tell (such as former Skinhead Angela King). But each interview is both interesting and educational, easily understandable but not minimizing the complexities involved. The book's format for each interview is also helpful, offering the interview as a dialogue with main points highlighted, followed by a summary, points for discussion, and a section for notes. It is easy to see how it could be used in a wide variety of situations or contexts.
Sharon E. Davis has spoken previously at our Bahá'í Center and is both an author and recognized authority on racism and racial healing. She is also a founding member of the Institute for the Healing of Racism, and former Executive Director of the National Resource Center for Racial Healing.
Find her book at our Bahá'í Center bookstore.
For more information, visit safeplaceonrace.com.
Listen to archived broadcasts