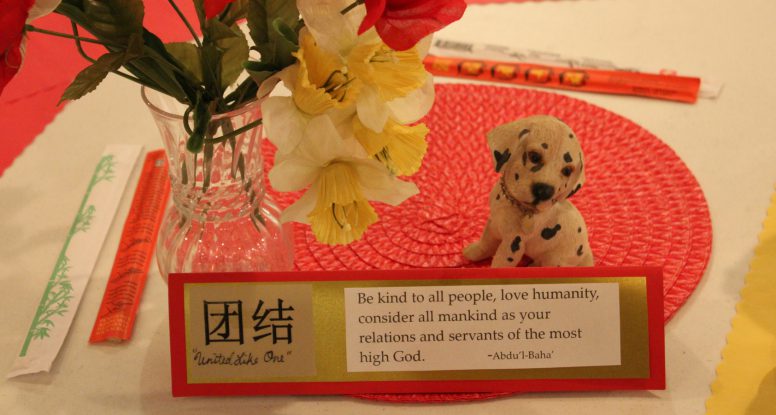 Unity Dinner Report: February 2018
On Saturday, Feb 17, the Baha'i Center of Washtenaw County held its monthly unity dinner. The sponsoring hosts were Mr. and Mrs. Nelson and Jean Freeman of Pittsfield Township. Baha'i Center Committee members and friends had decorated the foyer and lower level dining area with colorful Chinese artifacts, décor for Chinese New Year, and various ceramic dogs, as 2018 is the year of the earth dog.
The program upstairs began at about 6:30pm with a memorial prayer for two friends who recently passed away and who had lived in the area for a number of years before moving to Nevada. Additional opening prayers were offered in Chinese, Persian (Farsi) and English.
Two wonderful children explained how the Chinese New Year is celebrated traditionally. The Harmsen family sang "Oh God, Guide Me" in Chinese, and we watched a video rendition of "Strive" from YouTube.
The audience was packed with about 80-90 guests of various ages, ethnicities, and religious backgrounds. We were very happy with this diversity, as all are welcome at our Baha'i Unity Dinners.
The speaker's presentation focused on "Independent Investigation of Truth", which is a central tenet of the Baha'i Faith. It was very informative and thought-provoking.
After the talk, attendees enjoyed the dinner featuring many traditional Chinese dishes such as broccoli with beef, noodles with beef or chicken, sesame chicken, sweet and sour pork, shrimp with vegetables, various rice dishes, and vegetarian dishes including fresh salad. Desserts and fresh fruit completed the meal.