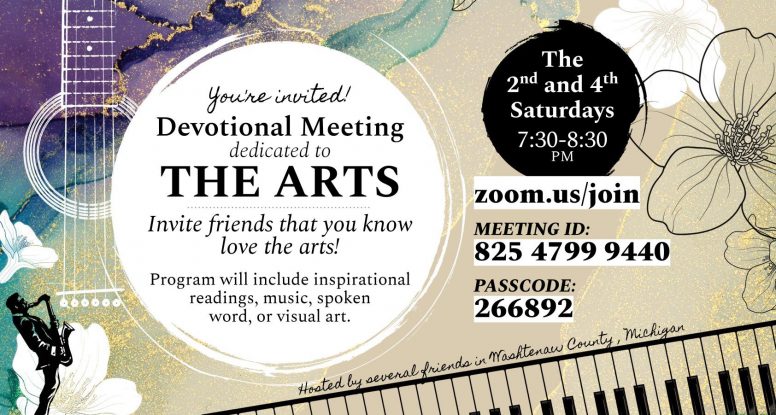 Devotional Meeting dedicated to the Arts
When:
February 13, 2021 @ 7:30 pm – 8:30 pm
2021-02-13T19:30:00-05:00
2021-02-13T20:30:00-05:00
You're invited to a Devotional Meeting dedicated to the Arts!
Invite friends that you know love the arts!
Program will include inspirational readings, music, spoken word, or visual art.
Join us every 2nd and 4th Saturday of the of the month.
To join, go to zoom.us/join and enter the following login information.
Meeting ID:
825 4799 9440
Passcode:
266892
After prayers, we will visit with a wonderful video that Michael Naylor has prepared for us about basic principles of the Faith and the arts! We will reserve plenty of time for elevated conversation. Michael is an extraordinary musician and ethnomusicologist; see his amazing bio far below. The evening's host is David Frankel.
About Michael Naylor (from the WCC faculty page):
Michael Naylor, performed as a studio musician with such artists as Frank Sinatra, Tom Jones, Julio Iglesias, Celia Cruz, and many Motown groups, in both jazz and studio music settings. After touring Europe, Africa, South America, and the Middle East, Dr. Naylor remained in Europe for six years, where he performed in and directed musical theater and light opera, composed music for German radio and film orchestras, and performed with many world music and jazz ensembles. He returned to Miami in 1983 where he composed music for film and media and instructed students in both vocal jazz and career development, he received his PhD in Ethnomusicology from the University of Michigan, concentrating on global cultures and music, racial and cultural Creolization, and cultural exchange or fusion in multi-racial cultures. He has since taught career training, jazz, world music, and especially music appreciation at Oakland University, the University of Michigan, the University of Miami, FL, Wayne State University, and WCC. He served several terms as chair of the performing arts department at WCC during the period 1994-2012. Currently, he and his son Brandon (Ph.D. program in multi-cultural/urban ed.), together with numerous artists and educators from around the World have collaborated in creating an affiliate non-profit 501c3 organization to develop global cultural competency training for students and educators.